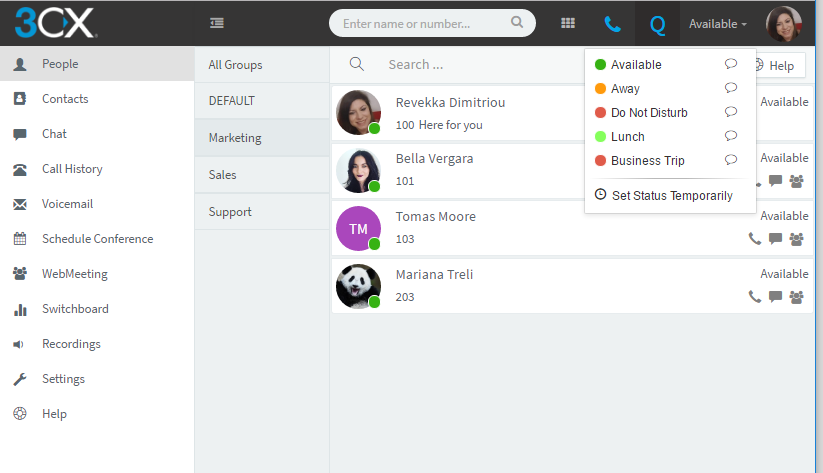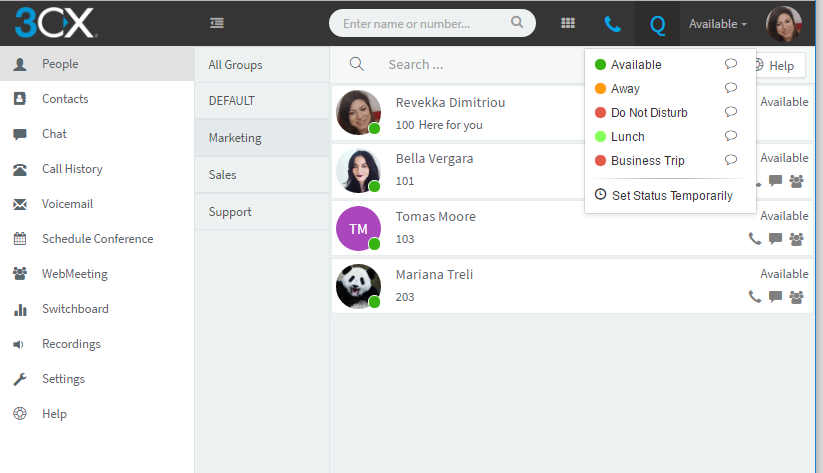 New Webclient with V15.5!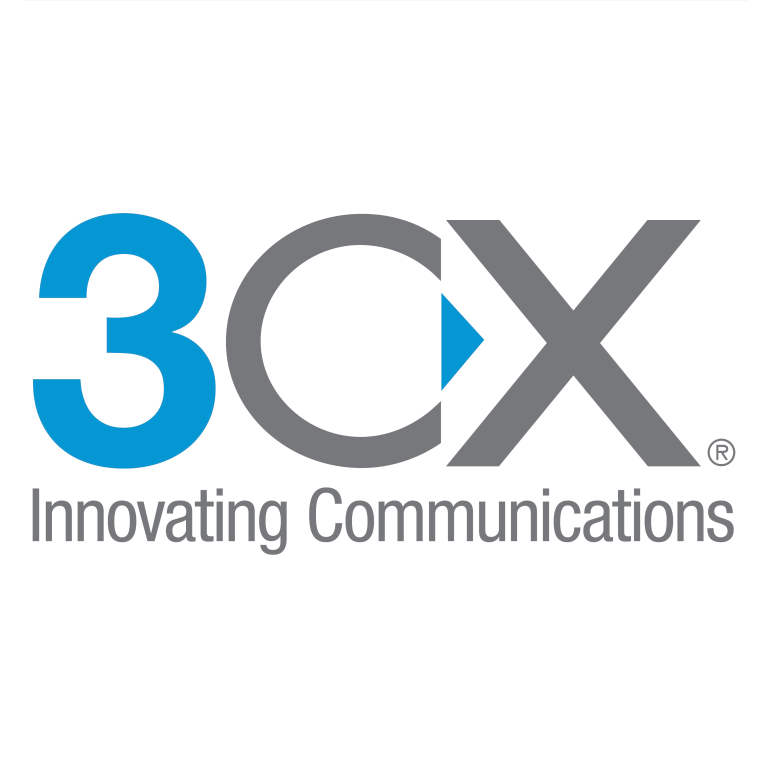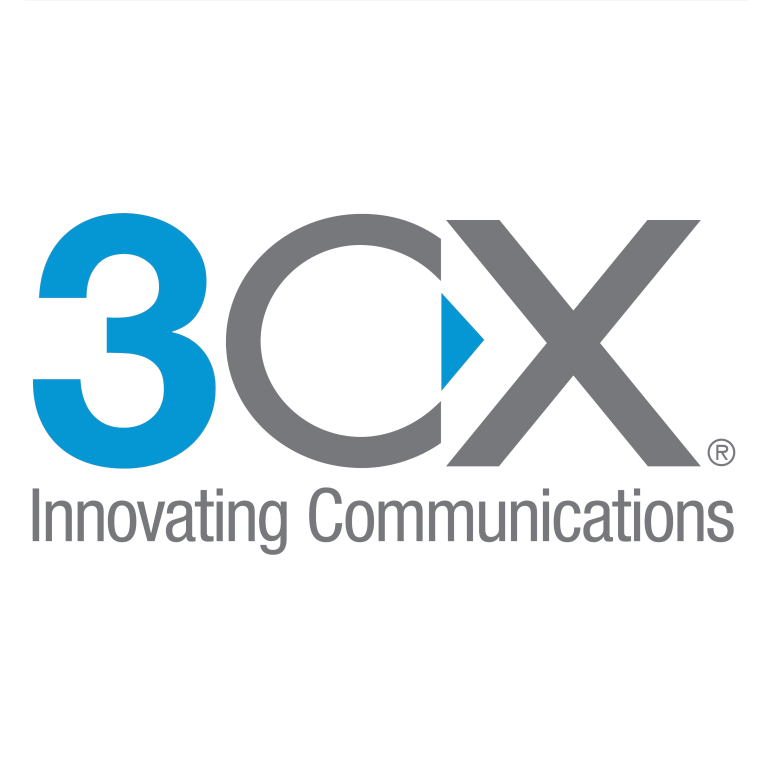 Best in Class VOIP Solutions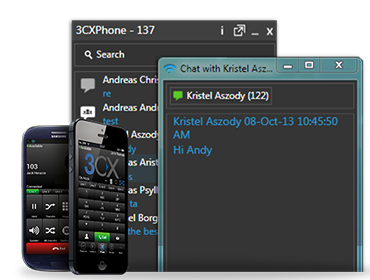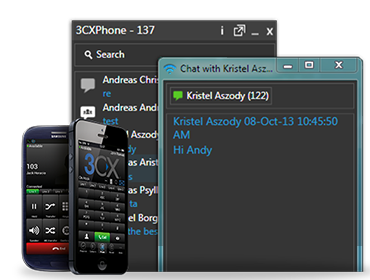 Anywhere and Everywhere, working without limits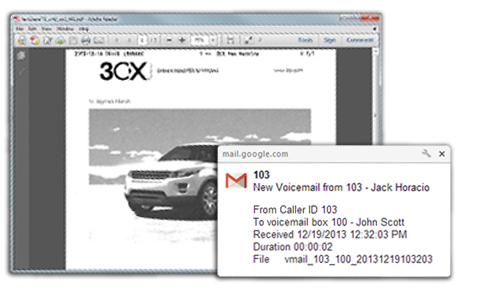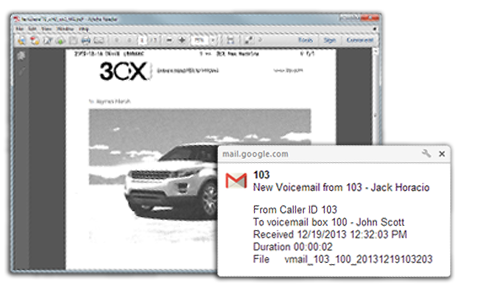 Fax and Voicemail to email
Hosted 3Cx has done it again and given the power to the managed service provider. Not only are they known for have one of the most intuitive hardware VOIP phone systems but they offer it as a cloud solution.
We now have the ability to offer our clients an award winning VOIP phone system solution without them having to leave "the cloud". Today more and more businesses have adopted "the cloud" strategy, why invest your capital in hardware that you will have to update/upgrade and refresh all the time, when you can put that capital back into your business and use someone else's capital on equipment and hardware. Oh and by the way when you go to "the cloud" you are working with companies whose job it is to build, maintain, and support "the cloud".
You can spend your time making your company grow and taking care of your clients and leave the technology to us.
With the ease of integration with this phone system you will be able to do more than you ever have been able to do with a traditional phone system, this system is designed with today's technology and the way we work in mind. Voicemail to email, fax to email, inter-organization instant message, to just name a few items. Soft phones that are available for laptops, cell phones and tablets, and yes this is designed for IOS, Android, as well as Windows. Just having the ability to make your cell phone your work phone for both receiving and making calls, this isn't just your old school "find me follow me". This means you can work from anywhere and so can your employees. You can also integrate this system with Microsoft Exchange as well as some of the leading CRM platforms as well. Not to mention the web and video conferencing and call center management options as well. Again everything you could want in a traditional phone system delivered via "the cloud" allowing your phone system to give you wings vs be your anchor.
What does this mean for you, you are now more versatile than you have ever been! When we say an office without limits we mean it. You can have a desk phone, and soft phone on your laptop/ computer, as well as a soft phone on your cell phone or tablet. You can work from anywhere without having to give out your personal cell phone number, just use your work number. This truly gives you the ability to keep your personal cell number personal. As a business owner that means your clients have your business number to call not the cell number of your sales or support person, who could leave your company and take that client with them.
3CX includes clients for smartphones and Mac or Windows laptops that allow users to use their office extension from anywhere, seamlessly integrated as if they were in the office. Not only are all calls to the office free of charge, but employees can leverage one single number and make a professional impression.
• Take your extension everywhere you go
• All calls are free of charge – slash your mobile phone bills
• Increase productivity – work from anywhere
• One number – Don't give out your personal mobile number
Traditional companies are used to spending anywhere from $6,000 to well over $40,000, for a traditional phone system, and those costs do not included the circuits to go with it nor does that include support. So on top of that you are looking at a yearly operating cost of $2,400 on the low end. The part about all of this that just really is mind blowing is that even will all of this cost you are still talking about a fairly basic phone system.
For a fraction of this cost you can have an enterprise phone system, giving you an office without limits to be able to work from anywhere, voicemail to email, fax to email, inter-organization instant messaging, exchange and CRM platform integration right out of the box. Yes you can add on things like web and video conferencing, and call center management. Right out of the box you are leaps and bound past what any $6,000 phone system could do for you, and the best part about this is you have not spent any capital anchoring you to a traditional hardware phone system.
Top 10 Advantages to 3CX
1. Software based: Easy to install & manage
2. Inexpensive to buy and expand
3. Work from anywhere with iOS & Android clients
4. Leverage existing IT infrastructure & Server hardware
5. Save on your phone bill with SIP Trunks & Mobile / Remote clients
6. Integrated video conferencing using WebRTC
7. Better customer service with advanced call queues
8. Integrate with CRM & Accounting software
9. Standards based – use popular IP Phones, SIP Trunks
10. Click 2 Call from your website
Who Is using 3CX and What People are Saying about 3CX


RE/MAX Brokerage saves $80,000 with 3CX Phone System
"3CX was remarkably flexible and easy to install. It was also extremely simple to manage and being able to run 3CX on Windows Server offers great peace of mind."
Director of IT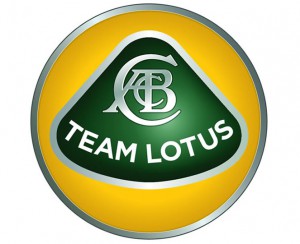 3CX VoIP Technology Powers Team Lotus
"Configurability of 3CX is outstanding – we can easily make changes to the PBX ourselves, something that was unthinkable on a traditional PBX."
Bill Peters, Head of IT

3CX Phone System Pro – 4finances Call Centre for European Operations
"3CX is the best price performance option. The phone system allows you to create almost any configuration you need, starting from a simple interactive voice response and ending with a complex system with customized call flows."
Infrastructure Department Manager, 4finance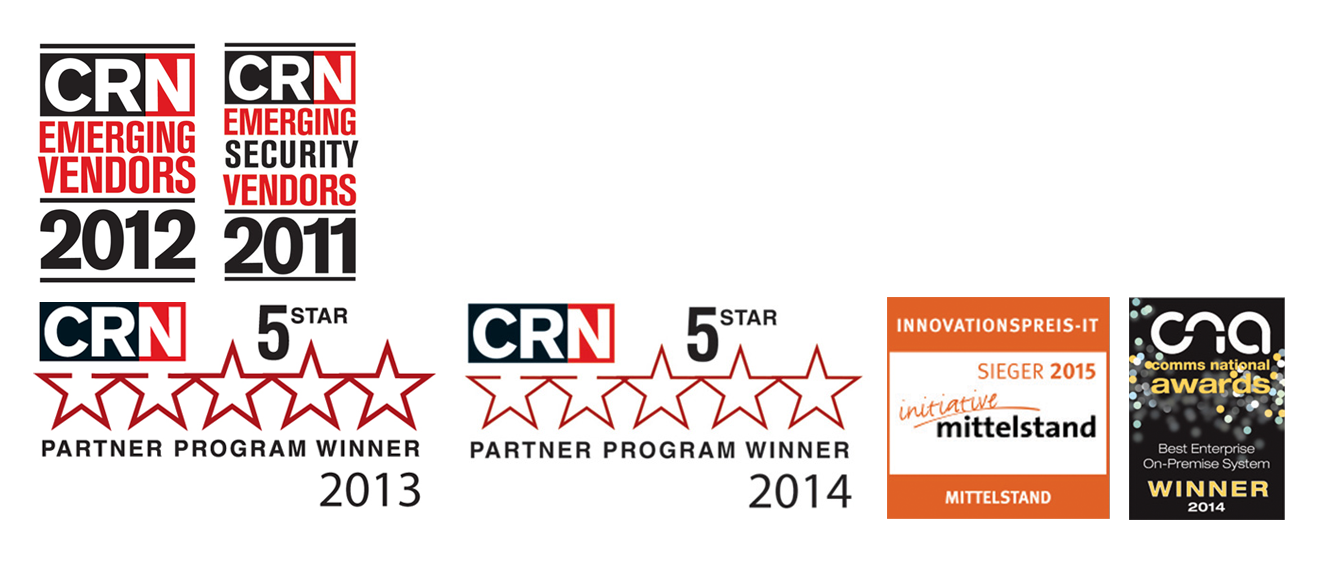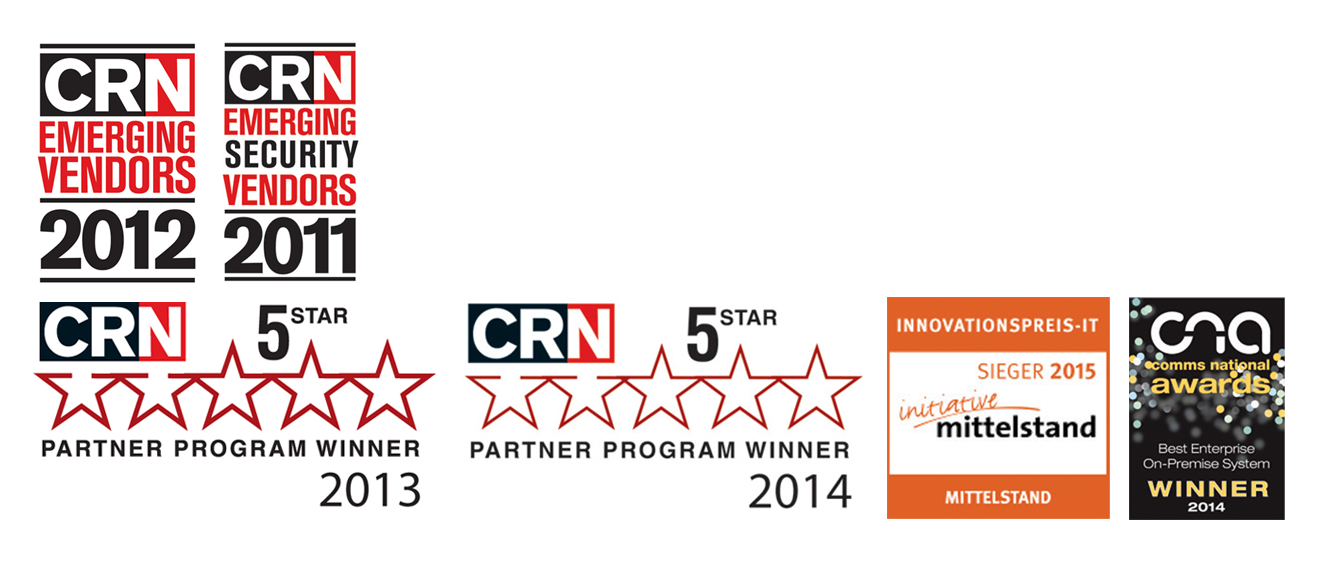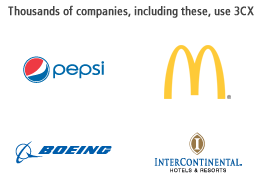 3CX Features
General Features
Call Logging
Call Reporting*
Blind & Attended Call Transfer
Call Forward on Busy or No Answer
Call Routing by DID
Caller ID
Auto Attendant / Digital Receptionist
Voicemail/ Music on Hold
Central Phonebook
Call by Name
Call Parking & Pickup
Call Queuing
Call Recording
MWI – Message Waiting Indicator
BLF Status Updates
Intercom/ Paging
Ring Extension & Mobile Simultaneously
Automatic Pickup on Busy
WebRTC
WebMeeting
Webapplications Secured with https
Management and Scalability
Web-based Management Console
Configuration Wizard
Real Time Web-based System Status
Integrated Web Server
Backup and Restore The PBX
Configure External Extensions via 3CX Tunnel
Integrated Enterprise Database
VMware / Hyper-V
Establish SIP Trunks with other SIP Servers
Unified Communications
Setting Up Conference Calls
See the Presence of Your Colleagues
View Presence of Bridged PBXs
Receive Voice Mail via Email
Receive Faxes via Email as PDF
Integrated Fax Server
Integrate Offices with 3CX Bridge
Public SIP ID for Extensions
Advanced Forwarding Rules
Unparalleled Mobility with Windows, Android and iPhone
CTI Support (Windows only)
Seamlessly Create Conference Calls
See the Presence of Your Colleagues
Users can Configure their Own Extension
Plug and Play Provisioning
Email Provisioning
Manage 3CXPhone from within the Console
Includes 3CX Tunnel to Avoid NAT Problems
Tunnel All VoIP Traffic Over a Single Port
Transfer Calls
Shows Caller ID
Shows Personal Call History
Divert Calls to Voicemail
Queue Monitoring (Windows only) (Pro Version)
IP Phone Management
Automatic Phone Provisioning
Remotely Manage IP Phones
Manage IP Phones Network Wide from Console
Plug and Play Support
Provisioning Network Wide with Correct Settings
Restart Phones Remotely
Manage Firmware Network Wide
3rd Party Application Integration
Microsoft Outlook Integration
Salesforce Integration (Pro Version)
Microsoft Dynamics Integration (Pro Version)
SAGE ACT Integration (Pro Version)
SugarCRM Integration (Pro Version)
Microsoft Exchange 2013, 2013 SP1 (Pro Version)
Microsoft Exchange Contact Phonebook (Pro Version)
Microsoft Exchange Auto Attendant (Pro Version)
Devices and Providers
Supports Popular IP Phones
Supports VoIP Gateways
Make and Receive Skype Calls
Supports SIP /VoIP Providers
SIP Trunking Support
Free Communication Links to SIP Servers
Codecs (Voice Compression)
G711 (a law and u law)
G722
GSM
Speex
ILBC
G729
Web Conferencing
Plugin Free – WebRTC
One-click conference
Meeting Recording
Remote Control
Screen Sharing
Remote Assistance
Unlimited Users